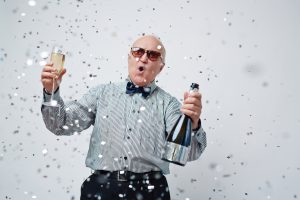 In addition to an ongoing marketing strategy, companies should take the initiative to market special dates and achievements. Birthdays, anniversaries, or milestones are unique opportunities to engage loyal patrons & partners, attract potential customers, and reinforce brand loyalty.
How should you market your milestone? Spritz has compiled a list of tips to share with you to leverage your commemorative occasion.
1. Turn Numbers Into A Narrative
Numbers tell a story all their own. Showcasing key measurements of your business, such as revenue or team size, gives a unique perspective of your company's growth, and marketing your milestone through numerical data objectively demonstrates how your company operates. Graphic representations of data, such as infographics or timelines, also effectively communicate your brand's mission through past achievements.
At the end of 2016, Spritz designed an infographic for RealtyShares, real estate crowdfunding company, to highlight all the milestones and achievements that the company had accomplished that year. The data displayed company growth, and provided insight into the real estate investment industry as a whole. This infographic also supported email marketing efforts, transforming company data into a vivid depiction of the business. RealtyShares effectively turned a holiday into an opportunity to tell their entire story.
2. Make A Brand Look Brand New
Who doesn't want a fresh, clean look for their birthday? Selective rebranding for significant anniversaries may be just what a company needs to bring extra attention to an already recognizable brand.
For the 20th anniversary of the Sonoma International Film Festival, Spritz incorporated the "20" into their current logo for a simple, yet powerful design. The logo update stayed within SIFF branding guidelines, but emphasized the continuing and exciting growth of an established community festival.
3. Celebrate Together
Who wants to party alone? Whatever the milestone, we recommend you turn your achievements into an open invitation to celebrate with loyal customers because, truth be told, you wouldn't be anywhere without them. Throwing an event, no matter how big or small, to honor loyal customers is a strong and heartfelt way to reinforce brand loyalty and promote word-of-mouth referrals.
Spritz client Farallon restaurant is celebrating their 20th anniversary on June 10th with an intimate gathering of friends, family, and loyal patrons. A special a la carte menu commemorates the restaurant's history in Union Square, entirely composed of classic dishes from The Farallon Cookbook: The Very Best of San Francisco Cuisine. For an extra special touch, three generations of chefs: current Executive Chef Jason Ryczek, former Executive Chef of 13 years Parke Ulrich, and Chef/Co-Owner Mark Franz, will all be cooking in the kitchen together.
4. Get Your Audience Involved
Rouse enthusiasm and excitement among your loyal customers by getting them engaged in celebration planning. By running themed giveaways, contests, or campaigns that appeal to customers, you can increase their personal interest in your milestone, and engage them in an ongoing dialogue about the history, significance, and relevancy of your business.
For Farallon's 19th anniversary last year, Spritz devised a social media contest that would bring attention to the restaurant's anniversary and cocktail program, as well as drive social media gains. Posts were made across Facebook and Instagram listing the ingredients of a special anniversary cocktail, inviting followers to submit cocktail names that included the number 19. The winning name would be adopted, and listed on the menu – but to be eligible to win, followers had to follow Farallon on both Facebook and Instagram. This contest drummed up excitement among the Farallon customer base, interest in the cocktail and bar program, and also drove awareness for the 19th anniversary.
Read More