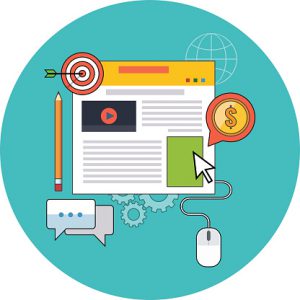 In this digital day and age, it's nearly impossible to open up any webpage without seeing a banner ad. Simply put, they are ads, typically rectangular, on a web page. With such a proliferation of web advertisements nowadays, it is especially important to keep these 4 simple, yet effective design practices in mind to create click-worthy ads.
1) Keep The Copy Simple
Be honest, how much attention do you really give to an ad while you're scrolling through Facebook or any web page? Users typically spend only about 1 to 2 seconds on an ad, so the key is to keep your copy short, catchy, and most importantly, offer something of value to the user. It is best to keep the copy between 2 to 10 words max. Fun fact: human brains can only process about 5 words per second, so get to the point quick and get the click!
2) A Compelling Call To Action (CTA)
Messaging and visibility are key to an effective call to action. With limited spacing comes great responsibility in choosing the right words to use. A compelling call to action conveys a sense of urgency and addresses two important questions: what you want the user to do and why they should do it. Another equally important aspect is visibility – you want your CTA to stand out and you only have 2 seconds to do it! The easiest way is to present your CTA as a button. Even though the whole ad is clickable, users will instinctually want to click on a button. Lastly, avoid surrounding imagery or elements that will compete with your call to action button. Ensure your CTA is identifiable from the background and the other elements are not distracting the user from clicking.
3) Simple Animations
This tip really needs be executed with finesse. GIF animations are a great way to catch the users' attention because human instinct is to look at what's moving. As we just discussed, any in-ad animation should further promote the user to click your CTA and not become a competing or distracting element. A clever way to do both is to create an animated call to action button. The animation should have just enough movement to compel the user to click, but not so aggressive that it is off-putting. Trying to do too much on an ad renders it ineffective, and you run the risk of looking like 'click-bait' and damaging the reputation of your brand.
4) Size(s) Matter
Banner ads come in a variety of sizes, but a select few perform better than others for a few reasons. Firstly, wider horizontal banners outperform tall banners because people like to read from left to right and tall banners often mean the text needs to be stacked. Secondly, more ad space is available for particular sizes. Lastly, most people are glued to their phones more than ever, so designing a mobile banner ad increases your chances of an impression and a click through!
Here are the top performing ad sizes according to Google AdSense themselves:
• 728 x 90 (horizontal leaderboard banner)
• 300 x 250 (medium rectangle)
• 336 x 280 (large rectangle)
• 300 x 600 (half page)
• 320 x 100 (large mobile banner)
Read More