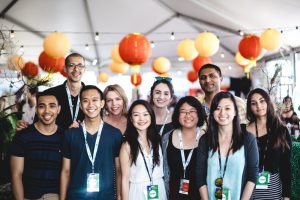 This year's 20th Annual Sonoma International Film Festival was an incredible success thanks to all of the movie buffs, filmmakers, sponsors, partners, media, and volunteers that attended! More than 5,000 attendees enjoyed 135 films, plenty of parties, and breathtaking Sonoma weather. From opening drama "The Promise" to Sunday's closing ballerina flick "Polina," the festival was jam-packed with cool films, wine, beer, spirits, and parties.
Spritz is proud to be the official SIFF creative and marketing agency for the fifth year in a row. Big thanks to our 2017 film sponsors: Susan Atherton for nature mini-doc "Gardeners of the Forest, Anna Alioto and Michael Hogan of The Brenner Group for indie rom-com "First Comes Like", The Bay Times for Scottish LGBT feature "Handsome Devil", and Spritz's own sponsored feature "Tunnel". Our own Spritzer Raghu Shivaram also presented the film "India in a Day" with director Richie Mehta and Deputy Consul General of India Venkata Ramana, who sponsored the film.
This milestone year also brought with it big exposure and activations for festival sponsors old and new. Premier Sponsor Celebrity Cruises kicked off their Leading EdgeSM Tour by bringing pop-up theater Celebrity Cruises Mobile Cinema to SIFF as a film venue. Attendees received an exclusive preview of the upcoming Celebrity EdgeSM, Celebrity's newest ship class in almost a decade, while enjoying complimentary truffle popcorn, wine, and beverages.
Taiwan Tourism Bureau, also a Premier Sponsor, enjoyed naming rights for the Taiwan Tourism Bureau Theatre, and the accompanying lounge, which offered tastings of Kavalan whisky and Taiwan Beer, as well as Taiwanese snacks. The Taiwanese Night Market Party bustled with good cheer, fueled by mouthwatering traditional Taiwanese bites catered by Taiwan Bento, and numerous regional snacks, while lanterns and a large soup dumpling display made for a great photo opp.
Premier Sponsor Umpqua Bank also held an exclusive reception, and was highlighted on co-branded premium items for VIPs and party guests. In the Backlot Tent's VIP section, Nespresso kept festival-goers beat the heat with delicious cold espresso drinks, showcasing their sleek espresso machines and range of coffee.

SIFF was as always, a highlight of the spring season, so don't forget to save the date for SIFF's 21st, March 21 – 25, 2018!
Read More